MeasureCamp #12
We did it again.
In mid March 2018, some of the brightest minds in digital analytics came together to share their knowledge and learn something new, while meeting new and old fellow analysts. Not even St Patrick's Day could prevent MeasureCamp XII from being a success.
The digital analytics community in UK and around the world made it possible by attending, sponsoring, presenting and sharing their experience. It wouldn't have been possible without you. Thanks!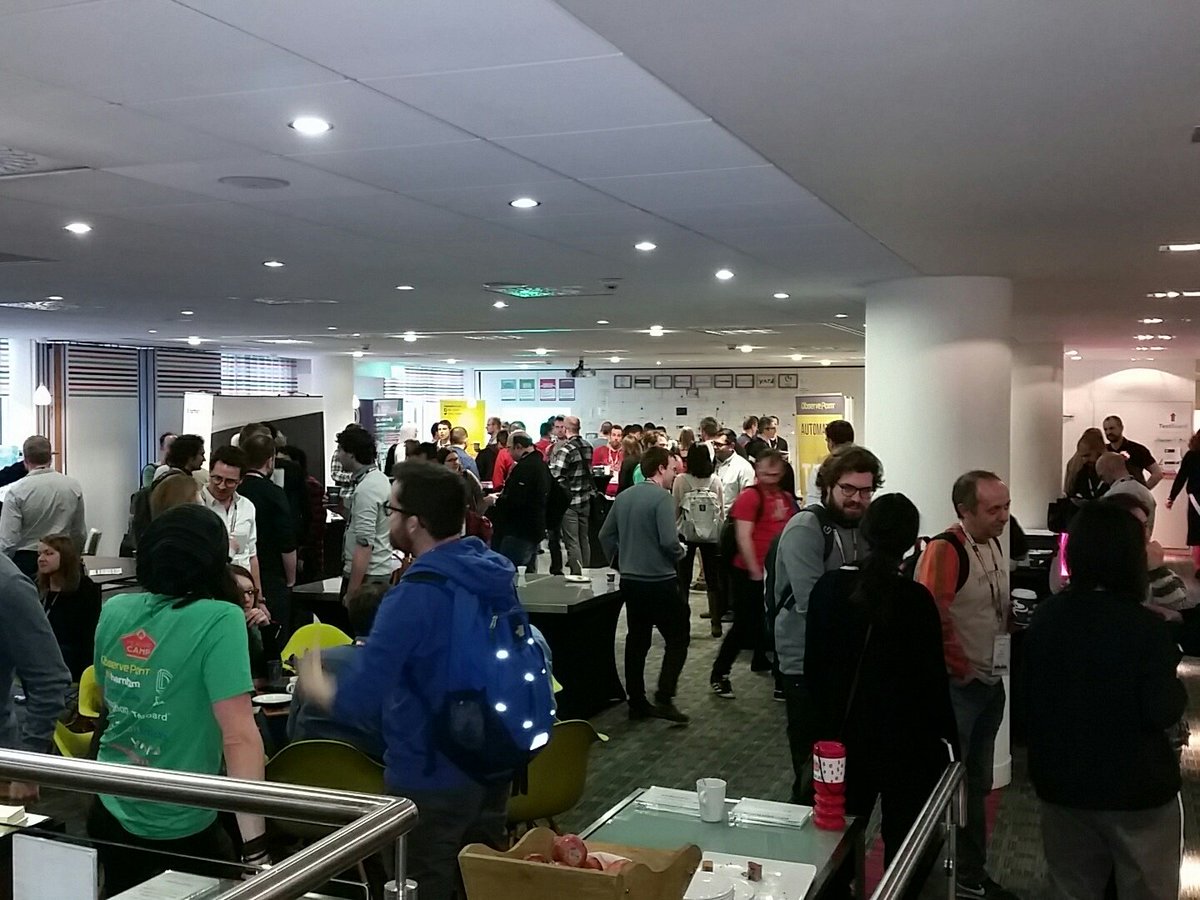 Some achievements
We achieved several things during the day.
Many of the big number of first-time attendees also did a presentation. For some it was their first time presenting too.
Bhav's new speaker blog series or Yves-Marie's blog post about his experience as a first-time at MeasureCamp may have helped to do the trick. Let us know if you fancy sharing your experience on our blog.
See some of the feedback:
We all raised £737 for a worthy cause, a charity called Code Club,which helps nine to 13 year-olds to learn to code.
How many of you would've liked an experienced coder to help you with the nitty gritty of coding when you started? Your contributions have helped to make it possible so far. You can still contribute. Thanks!
Sessions
We recorded many of the sessions, which you can watch on our Periscope channel. For example, the opening session.
Find a list below with the presentations, discussions, links to slides, blog posts and video recordings where we have them. Get in touch if we have misspelled your name or if we need to add anything to the list.
Session name
Speaker
Twitter handle
Slides
Video/ blog post
Give Data Studio a Chance
Guiomar Gonzalez
@guiometrics
 https://goo.gl/BqhgZS
From pagespeed –> sitespeed insights with R
Donal Phipps
@donalphipps
 bit.ly/ps_measurecamp
 https://goo.gl/H3ko2f
Clickstream Analysis with Markov Chains
Alexandros Papageorgiou
@alpapag
 https://goo.gl/15Pmx8
Smart insight and intelligent report
Phil Pearce
@philpearce
Conversion optimisation chat
Chris Marsh
@chrismarsh_uk
Digital nomad – travel and see the world. But how?
Johannes Radig
@joradig
Intelligent data – thoughts on analytics of tomorrow
Steen Rasmussen
@strasm
 https://goo.gl/x59FM6
 https://goo.gl/Fk253h
Attribution – not models but actions
 Russell McAthy
 @therustybear
 https://goo.gl/2jyt2J
How to get university sites to move quickly
Phil Pearce
@philpearce
 https://goo.gl/wYz4pg
25 Tips/Tricks/Hacks in 30 mins
Peter O'Neill
@peter_oneill
https://goo.gl/bSYgNK
https://goo.gl/cr5yrG
Enhanced ecommerce for non-ecom websites
Nathan Stockford
 https://goo.gl/gmrEjd
Customer journey: marketing clouds vs customer data hubs
Marc-Anton Clavel
 @w0nvel
 https://goo.gl/aE4M6g
 https://goo.gl/AWBshp
Device Experience Mining
Craig Sullivan
 @optimiseordie
 https://goo.gl/oP7afb
How do you manage/optimise your own workflow
 Colin Smith
 @colin42
Pros and cons of Data Studio, Power BI and Tableau
Helena Kleist
 @HelenaKleist
 https://goo.gl/uQU8eY
 Web analytics for a SAAS company
Jeremie Er-rafiqi
 @Ratouffe
 jim.do/as-slides
 Agile Analytics
 Simo Ahava
 @SimoAhava
 https://goo.gl/1vE6BG
https://goo.gl/g4GEhb
https://goo.gl/FomWRF
How to train your new analyst
Matt Whiteley
 @thatmattw
 https://goo.gl/BHJzan
GDPR with GTM and R
Danny Mawani Olsen
 @dannymawani
 https://goo.gl/QqJDcQ
 https://goo.gl/kGwySn
Are we paying them too much – can we become more profitable
 Clarice Lin
 @missclaricelin
 https://goo.gl/hpphqv
 https://goo.gl/4iR2ie
 Startup Analytics
Matthew Brandt
 https://goo.gl/QiuMmN
 What skills does an analyst need in 2019
Alice Moore & Grant Kemp
 @ukdatageek
@alicejmoore
https://goo.gl/PZCtXn
When did you last audit Google Analytics
 Craig Sullivan & Charles Meaden
 https://goo.gl/rwH2Am
GTM Brewmaster (Cider + GTM session)
 Phil Pearce
 @philpearce
 https://goo.gl/4euMZ1
 https://goo.gl/hmxKrz
Which programming language to learn – R or Python?
Maggie Petrova
 @petrovamagi
 https://goo.gl/MV1SZS
Apache Beam: The road visits re-assessment & ETL victory
Konstantinos Papadopoulos
 https://goo.gl/wzF6g4
A stepwise approach to cross-channel personalisation
Niels Reijmer
 https://goo.gl/e7b97K
Build your own power analytics tool
 Alban Gerome
 @albangerome
 https://goo.gl/TPhCE5
Website personalisation DIY with Google Tag Manager
 Johannes Radig
 @joradig
 https://goo.gl/KbnwfA
 https://goo.gl/vAqJJM
Alexa, do I need to go to work today?
 Dominic Hurst
 @dh_analytics
 https://goo.gl/JUxYhF
Apps discussion
 Gerry White
 @dergal
 https://goo.gl/Y1qurh
Anything and everything Adobe Analytics
Deepak A & Stephen A
Google Analytics/Tag Manager/Optimise/Data Studio – tips and bugs you should know about
 Alan Daitch
 SAAS KPIs for Google Analytics
 Arnout Hellemans
 @hellemans
 https://goo.gl/HwMU1m
Measuring content with Google Analytics e-commerce
Cyprien Vallette & Sebastien Monnier
 @smonnier
10 things I wish I was told when I started with Google Tag Manager
George Slokoski
 https://goo.gl/oZMgRv
Rolling out global projects
 Julien Cocquet
 https://goo.gl/Ggx7kW
How to develop analytics masterclass
 Peter Jakus
Ideas how to deal with PII in Google Analytics
Johannes Arne
Tips and tricks of digital optimisation
Dan
Lessons learned from your no 1 stakeholder
Ellie Hughes
 https://goo.gl/zY8jMH
Data in politics
Ihtesham Afzal
The future of analytics roles
Kathryn Choi
The evolution of the digital analyst
Michael Feiner
Data whispering and measuring the universe with a graph
John Woods
@johnawoods
Google Attribution 360
Ilona
@IlonavandeB
Get to know your audience: bringing metrics to the newsroom
Hanne Brasseur
What's wrong with this graph?
Gidi Delayahu
E-commerce on-site search ideas for analytics
Gabriela Denilson
Is user intent messing up your attribution models?
Dilyan Damyanov
@dilyan_damyanov
AB testing portal
Carly
Rise of the learning machines
Nicholas Duddy
@nickduddy
Beyond A/B testing part 1
Matt Gershoff
@mgershoff
Beyond A/B testing part 2
Matt Gershoff
@mgershoff
Becoming an artisan analyst practitioner by building tools customised to your needs
MeasureCamp XIII
We're already working hard to make the next one happen. So please get in touch if you want to sponsor MeasureCamp XIII, have any suggestions or want to write for our blog.
Also, if you sign up to our newsletter, you can be in the know about what's happening during and before the conferences and in the digital analytics world. Find the form on the footer of the website.
See you shortly.